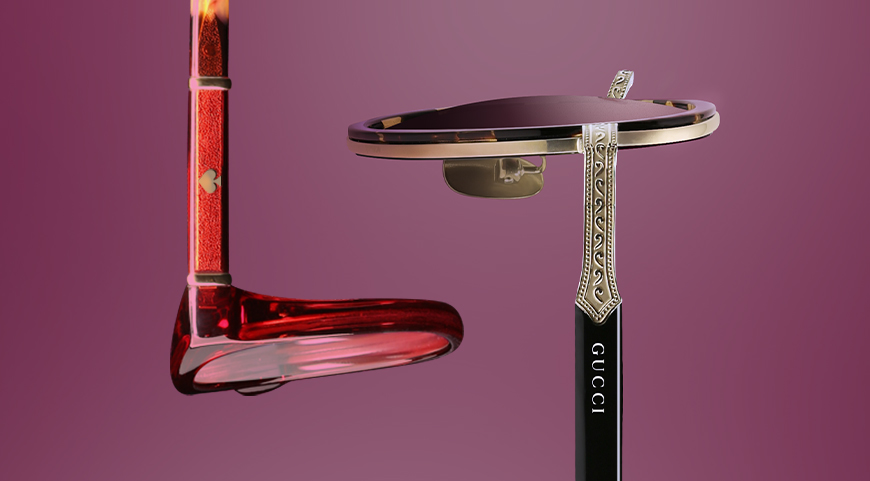 Gucci & Kate Spade Eyewear Have Arrived at Eyeconic
This is not a drill. Kate Spade and Gucci are available on Eyeconic. Actually, you might want to be sitting down for this. It's just too exciting to risk injury due to jumping for joy.
Now that you're safely seated we can reveal that for both brands, we have eyewear and sun styles. Hey, we told you not to jump for joy!
Okay, let's get down to business and chat about what you can expect from both of these illustrious brands.
New Gucci eyewear.
If you're familiar with the iconic Gucci brand, you know that Gucci's styles feature everlasting icons, rich details, and the hottest trends on the runway.
With Gucci's classic red and color motif, these GG0106S sunglasses with hexagonal lenses are perfectly bold and classic.
The two-tone design featured on the temples was inspired by the traditional colors of equestrian saddle girth straps. In the 1950s, these colors were emblematic of the brand, but more colors have been added over the years.
Also key to Gucci's brand are rich patterns and romantic tones that accentuate Gucci's eccentric and free-spirited attitude. We love these eyeglasses that have a bold stripe and dazzling glitter temples.
Oh, and for a more whimsical look, we're digging the bold and feminine GG0068O frames with temple etching inspired by nature's unique elements.
The 1970s-inspired GG0113S suns are bold and funky. Reading "l'Aveugle Par Amour" on the front (that's "blind for love" in Italian), they are also adorned with the iconic metal bumble bee and delicate gold temples.
New from Kate Spade.
Kate Spade has been long known for its crisp, bold colors and playful sophistication. Born of its namesake Kate Brosnahan Spade in 1993, the brand's original goal was to create the perfect handbag.
Over the years, Kate Spade has broadened to a full lifestyle brand to include everything from clothing, jewelry, and homewares to lovely eyewear.
The playful sophistication of the brand is visible in the eyewear with fun, bold colors and adorable accents.
These Kaileigh frames are classic but bold with their burgundy tortoise temples and we love the bright pop of pink on the Jacey glasses. No matter which ones catch your eye, charm and pizazz are a part of every Kate Spade style.
And now, you can take your pick from hundreds of styles, from Gucci and Kate Spade, to Nike and Cole Haan. Feeling shoppy? Head over to Eyeconic to find your next pair.